Swap of the Month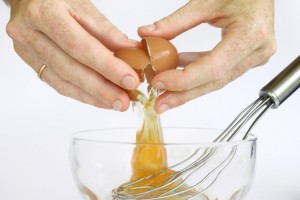 Eggs are cheap, quick, easy and versatile, as well as being high in protein and essential nutrients such as Vitamin D. Recent studies have found that there are no increased health risks associated with the consumption of eggs, and that consumption of eggs every day is not associated with an increased risk of heart disease. At Eat Me Nutrition we've decided to be all about eggs this month, and we've got some great quick and easy meal swaps using eggs to nourish you through the winter months.
Swap your boring cereal or porridge for breakfast for a boiled egg with asparagus  spears. Not only will this keep you fuller for longer because of the increased protein, but it's also an easy way to increase your daily veges by taking advantage of great winter produce. Yum!
Instead of vegemite or jam on toast, try scrambled eggs on toast. The key to great scrambled eggs is to take them off the heat just before they're cooked to stop them going rubbery.
Instead of deli meat, boil, peel and slice an egg and pop on a wholegrain bread roll with avocado, lettuce and tomato for a quick and easy lunch
Swap from meat to vegetarian if you're feeling like something lighter. Mix 4 cracked, beaten eggs with 1 cup brown lentils and your favourite spices. Cut two red capsicums in half and place a spoonful of the lentil and egg mixture into the capsicum. Bake in the oven for 10 minutes. Enjoy as a quick and easy dinner meal!