Tips to Avoid Unwanted 'Winter Weight'
As winter approaches, it's a good time to check in with your nutrition habits, focusing on some simple tips for avoiding unwanted weight gain during this period.
Unfortunately in winter the days are shorter, weather colder and wetter and as a result we tend to spend less time being physically active (true for both incidental and planned exercise).  We should be accounting for this and putting practises in place to ensure we aren't eating too many kilojoules or calories for what we can burn off.  Unfortunately as a trend we tend to crave more comfort foods, stodgy meals and treats. Read on for a few ideas for enjoying the change in season, without unwanted change to your clothing size.
Breakfast : If you tend to do more hot breakfasts to warm you up on cold mornings
Swap eggs benedict for poached eggs with salsa
Swap fried eggs for poached or boiled eggs
Use extra trim bacon (cut of the visible white fat) or get a leg of lean ham and slice your own fresh each morning – yum!
Substitute eggs, bacon or sausages for baked beans 2 days a week
If you are a toast and peanut butter person – use Natural Peanut butter or reduced-fat and low salt peanut butter (high salt foods increase water retention), or experiment with other natural nut spreads or tahini
If you like porridge – wake up an extra 2 minutes earlier and use a recipe that contains 'Traditional Oats'  or find a pre-made packet with these as opposed to 'Quick Oats' (which are digested more rapidly and won't keep you full for as long).
Swap a glass of fruit juice for a piece of fruit and a glass of water with a lemon wedge, hot water or herbal tea. Fruit juice contains 2-4 times the calories of a piece of fruit but less than half the fibre.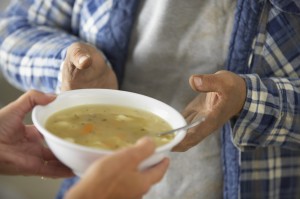 If you are someone that enjoys hearty dinner meals
For cream in dishes such as pastas or stroganoffs use evaporated milk instead (Carnation Light and creamy). Swap full fat sour cream for extra light option or use natural yogurt
For coconut milk based curries use evaporated milk with a dash of coconut essence (Carnation Light and Creamy Coconut)   or try a curry using natural low fat yogurt.
Swap full-fat cheese hard cheeses for low-fat cheese (come of the best options are: Jarlsberg Lite ; Bega So Extra Light also available in grated pack – both of these are under 16g total fat and 10g saturated fat per 100.
For meat dishes use half the meat portion you normally would and replace with an equivalent amount of legumes (such as kidney beans, 4 bean mix, lentils or split peas) – this works fantastic with adding brown lentils to spaghetti bolognaise, tacos, hamburgers  or any mice dish. See lasange recipe below.
Swap the second or your serving for some salad or extra cooked vegetables
Substitute mashed potato with mashed cauliflower with a dash of pepper and parmesan cheese for taste. White potato is high GI so this will reduce kilojoules but also result in a more gradual release of sugar into the blood stream.
Eat more home-made soup (at least 1 x per week) – See more below about the benefit of soups for weight control.
Snacks, Comfort Treats or Desserts
Avoid unnecessary snacking by drinking herbal tea instead. See below for more on experimenting with tea.
For cheese platters, which usually consist of a selection of 4 different creamy cheeses such as camembert and brie with water crackers. Try a healthier option and include just one high fat cheese option along with a block of feta cheese. Replace the water crackers for a wholegrain option such as Vita-Weats. Fill the rest of the platter with low fat dip such as hummus or tatziki with cherry tomatoes, carrot and celery sticks. Add in some fresh strawberries – Voila!
Swap a large portion of milk chocolate for a small piece of dark chocolate
Swap cream or ice cream with for low-fat yoghurt or custard or So Good soy ice cram
In coffee or hot drinks swap full-fat dairy for a reduced-fat variety.
For sweet cravings after meals try a handful of fresh or frozen berries
Soups– are a satisfying winter time meal, especially on the colder nights and days. They provide a fantastic opportunity to include plenty of vegetables, which will add bulk to fill you up without adding many kilojoules. Include basic ingredients including onion, garlic and leek. These vegetables are high in nutritional value (onion and garlic are considered superfoods, due to their high antioxidant properties) and also help to reduce excess fluid retention and bloating. Soups also freeze very well; they can be kept in the freezer for up to 3 months. So have a big cook up and make big batches of your favourites. This way you will have healthy lunches to take to work and dinner on demand for busy weeks or late nights.
What kind of soup you ask? The options are endless when it comes to soups so experiment with your favourite of herbs and spices for flavour.  To get you started a vegetable soup recipe can be found at the bottom this blog.  As a general rule avoid creamy based soups. You might also like to include a moderate portion of lean protein (e.g. beans, chickpeas, lentils, chicken breast, prawn or heart smart beef) and low GI carbohydrate (e.g. barley, quinoa, wholemeal pasta) to make the soup a more  of a complete meal.
Experimenting with Herbal Tea:  is a great way to put something warm in your belly without the added kilojoules. Try green or white tea varieties for a pick me up, camomile to calm and relax, ginger or peppermint to settle the stomach and aid digestion, flavoured fruit teas when your tastebuds are craving something sweet. Tea is also a source an excellent source of antioxidants – helping to avoid free radical damage to your cells! Further the added fluid will help you stay well hydrated throughout winter.
Tip: Avoid adding sugar and if having black tea, stay under 4 cups per day. Remember that is you are adding milk to your tea, this also adds kilojoules, although small amounts, this can add up if you are having numerous cups per day so swap to low fat milk/skim milk and factor this into your daily food/drink intake .
Beef and Lentil Lasagne
Preparation time: 55mins
Serves 4-6
400g can brown lentils
300g of heart smart beef mince
1 ½ cups of water
3 bay leaves
1 brown onion, diced
2 garlic cloves, diced
1 large carrot, grated
250g of cherry tomatoes, halved
½ cup mushrooms, sliced
2 beef stock cubes
1 tsp sugar
2 tbs red wine
½ cup tomato paste
100g feta cheese, crumbled,
600g creamed cottage cheese
2 tbsp parmesan cheese, grated
6-8 lasagne sheets (try wholemeal variety for extra fibre)
Method
Preheat the oven to 210°C (410°F)
Meanwhile heat a small amount of olive oil in a large fry-pan. Add the onion and cook for 1-2 minutes until soft.
Add the garlic and cook for a further minute until fragrant. Add the beef mince and cook for 3-5 minutes until just brown.  Add the carrot and cherry tomatoes, mushrooms stock cubes, sugar, wine and tomato paste and simmer over low heat for 5 minutes.
Drain and rinse the can of lentils and add to the sauce with water, bay leaves and continue to simmer for 10-15 minutes; season with salt and pepper to taste.
In a large baking dish spread a layer of creamed cottage cheese at the bottom then line the dish with two large lasagne sheets. Layer the lentils and meat mixture with the creamed cottage cheese and sprinkle with feta then top with 2 more lasagne sheets. Repeat this for another layer then finish with a layer of mixture sprinkled with parmesan cheese.
Bake in the pre-heated oven for 30-35mins until golden on top.
Serve with a simple green salad for a delicious main meal. Lasagne cuts best the next day when cold – a fantastic pre-made lunch idea!
Vegetable Soup
2 x onion
3 x cloves of garlic
1 x large red chilli
1 x turnip
1 x sweet potato (about 5 inches)
2 x carrot
1 x red capsicum
1 x zucchini
300g of mushrooms
200g of green beans
Celery (half a bunch)
½  x pack of 'Mackenzie's' red lentils
Moroccan seasoning (2 teaspoons)
Turmeric seasoning (2 teaspoons)
1 litre of stock made up (real stock or Massel powder)
1 x bunch of fresh coriander
1 x bunch of fresh basil
1 x bunch of fresh parsley
Olive oil (1 tablespoon)
Method
Soak red lentils in boiling water in a large bowl for 20 minutes
Meanwhile, finely chop onions, garlic and chilli
 Sautee onions, garlic, chilli, in 1 x table spoon of olive oil plus Moroccan and turmeric seasoning
Rinse and drain red lentils
Combine red lentils and sautéed mixture and one litre of stock into slow cooker
Turn slow cooker onto medium setting or high if no medium setting.
Chop vegetables into roughly 2cm cubes and add to slow cooker
Roughly chop herbs and coriander, basil and parsley and add to the slow cooker
Gently stir all ingredients
Place lid on and cook for 3-8 hours (depending on how hard or soft you want your vegetables and what setting you have your slow cooker on)
Christa Payne
Dietitian APD, AN / Exercise Scientist