Michael Lawler
Michael Lawler – Director of Eat Me Nutrition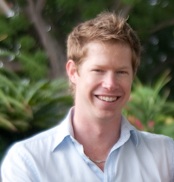 I grew up in a typical middle class family in Brisbane QLD. I attended primary school at Wynnum West State School and from Grade 5 – 12 attended Anglican Church Grammar School (Churchie) graduating in 2000. Throughout my entire childhood I enjoyed the privilege of a healthy loving family.
Moving straight from Grade 12 into a double degree at QUT, I knew relatively early on that I wanted to be a Dietitian working in private practice combining my knowledge in both nutrition and human movement and a passion for healthy living. As a result when I graduated in 2005, I began my career straight away in private practice.
Since then I have enjoyed helping thousands of people to overcome their health problems through nutrition improvements and working to understand the psychology behind what we eat. I have been lucky enough to work as a result with a very wide range of industries, organisations, athletes and individuals over these last 5 years.
In November 2011 I started Eat Me Nutrition to provide Brisbane and soon the rest of Australia with the nutrition messages that it needs. My counselling approach to nutrition education and non-restrictive weight loss strategies are a cornerstone to Eat Me Nutrition's approach.
I have regularly appeared as Guest Speaker for many groups including QLD Coeliac Society, Food and Health Festivals, Energex, Qld Water Commission, Bootcamps Australia and Diving Australia and many sporting communities.
In my spare time I love playing Basketball, Bushwalking, Camping, Cooking, reading and fine Dining. Most importantly I love spending time with my family and enjoying Excellent Food with Excellent Company.
---